API610 / ISO13709 pump
Pump category
Pump selection tips
All pumps listed in this section are designed in compliance with API610 and ISO13709 standard that are mainly used as petroleum chemical pump for chemical process, water feeding, petroluem (oil) transferring and so on.

DSP (BB1 type) single stage split case pump and MDS (BB3) multistage split case pump are mainly used for petroluem (oil) transferring, loading, lifting. They are ideal main pumps for your chemical and petroleum projects on land or offshore.

HMC (BB4) mulistage ring section is usally used as high pressure water feeding pumps or boiling water pump.

HMD (BB5) is the barrel case pump (called as double case pump in API610) that is used for extra high pressure pumps.

There are three types of end suction pump in complance with API610 and ISO13709 mainly for chemical process pumps. Those pumps are CA OH1 petroleum chemical pump, CC OH2 petroleum chemical pump and CO petroleum chemical pump. CO type with open or semi-open impeller can be OH1 and OH2 construction.

For the chemical controlling or automatic process, we have SP type self-priming chemical pump in compliance with ISO5199 and API610.
SP type chemical self-priming pump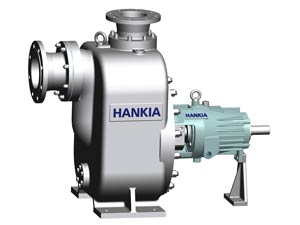 SP type is the single stage, end suction chemical self-priming pump with back-pull-out construction which is in compliance with ISO5199, API610. SP type chemical self-priming pumps have good suction lift head, the maximum suction head can be up to 6m. The SP type chemical self-priming pumps are usually applied in transferring corrosive luquid, like vitriol, nitric acid, sea water, sulfur liquid, etc. .SP chemical self-priming pump is your ideal option for chemical controlling and automatic process.
Main designing features
3D design used in the whole design process and CFD analysis and being embodied with knowledge and experience of the fluid experts in Hankia Pump.
Optimized impeller has high efficiency.
Back-pull-out construction is easy to maintenance and replacing the spare parts.
The shaft sealing is optional for single seal mecanical seal, double mechanical seal, cartridge mechanical seal and soft packing.
Standard stuffing box cooling jacket integrated inside the casing cover allows the pump to transfer high temperaure liquid.
Standard finned bearing bracket or bracket with cooling jacket to ensure long bearing life and stable pump working.
Heavy duty bearing design is ring oiled.
Complete stropes are machined already for your complete monitor system to the pump.
The suction and discharge nozzle meet ISO2858 standars or according user's application.
Heavy duty service design, the shaft can absord the huge and unstable torque.
Main benefits
Advance and modular design with fine production that is supplied by Hankia Pump.
Good quality with competitive prices
Comparently high efficiency as compared with similar products in the market.
Many choices for material, cast steel, all kinds of stainless steel, duplex stainless steel and steel alloy.
Excellent pumps with fast delivery.
Long lifetime and easy mentenance.
Main application
Chemical plants.
Petroleum products transfering.
Paper and pulp industry.
Oil and chemical loading on ships or at sea port.
Sugar and berry industry.
Offshore projects and sea water transferring.
Power station and nuclear industry
Basic service data
Capacity

up to 111L/s (400m3h), or as per tailor-made.

Head

up to 125m(410ft), or as per tailer made.

Working temperature

up to 240°C

Design pressure

1.6Mpa

Nozzle

up to 200mm or tailor design. Flange standard can be DIN, ANSI or other standard.
Performance range
Performance range at 2900r/min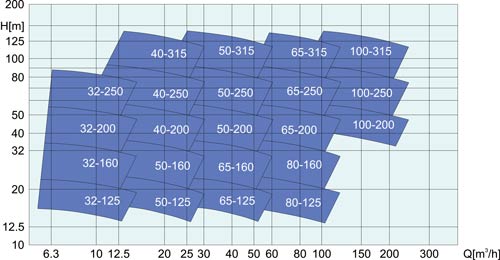 Performance range at 1450r/min