Multistage ring section pump
Pump category
Pump selection tips
All multistage pumps mentioned here are ring section pumps with redially split case. When we say multistage pump, we usually mean the multistage ring section pump although we have multistage axially split case pump. The engineers from some countries may dirrectly call it ring section pumps. We have to clarify it here in order to avoid misunderstanding. These multistage pumps are designed according to ISO standard and API610 standand.

HM type is the basic multistage ring section pumps that is the most common multitage pump that is used for clean water at different temperature. Now, we have the new generation HM multistage pump. The new generation HM multistage ring section pump has nice feature, optimizde performance, flexible nozzle orientation, etc.. It must be the best multistage pump at world class design and quality.

HMB multistage ring section pump and HMC multistage ring section pump are in compliance with API610 standard. HMB multistage pump have the back-to-back stacked impellers to automatically balance the axial hydraulic thrust. HMC multistage pump has similar working principal with HM type multistage ring section pump, but HMC multistage is designed according to API610 standard BB4 type. Untill now, we wish you have rouch idea about the difference between the four types of multistge ring section pump.
HMC type (BB4) horizontal multistage ring section high pressure pump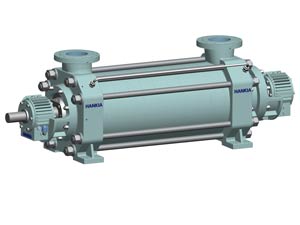 HMC type is the horizontal multistage ring section pump and high pressure pumps that is designed according to API610 10th. The impellers are stacked in the same direction on the pumps shaft. The rotor is balanced by the specially designed balance drum device. The rotors are perfectly dynamically balanced and the maximum stages can be up to 16stages. HMC type API610 BB4 multistage ring section pump is the ideal high pressure pumps for water feeding, boiling water, petroleum oil, chemical liquid, etc..
Main designing features
3D design used in the whole design process and CFD analysis and being embodied with knowledge and experience of the fluid experts in Hankia Pump.
Optional inducer stage with fine iducer impeller to allow very low NPSHr.
Fist impeller is possible to be double suction impeller to get very low NPSHr.
The suction nozzle and discharge nozzle can be horizontal, vertical, down, any position in times of 90 degree.
Optional shaft sealing for single seal mecanical seal, double mechanical seal, cartridge mechanical seal.
Standard design for stuffing box cooling jacket allow the pump to transfer high temperaure liquid.
Bearing bracket with cooling jacket or finned shape cooled by fan to ensure long bearing life and stable pump working.
Bearing lubrication is optional for grease, ring oiled, splashed systems or pressuriszed systems.
Bearing type can be rolling element bearng and sleeve bearing.
Complete stropes are machined already for your complete monitor system to the pump.
Main benefits
Optimum hydraulics optimized by CFD analysis and the fluid experts from Hankia Pump
Low NPSHr and high efficiency.
3D design to ensure nice performance and excellent construction.
Many choices for material, cast iron, cast steel, all stainless steel and duplex stainless steel, bronze for your different application.
Wind performance range allow you to have a reasonable project design
Excellent pumps with fast delivery.
Absolutely dynamically balanced rotor prolong the lifetime and supply stable performance.
Heavy duty service design allow the pump meet your complicated service condition.
Main application
Long distance water transferring
Boiling water feeding and transferring
Fire fighting
Water system boosting
Mining industry
Power station and water plant
Offshore projects
Pertroleum oil and chemical liquid transferring
All other application for high pressure liquid
Basic service data
Capacity

up to 450L/s (1630m3h), or as per any request.

Head

up to 2300m(7550ft), or as per any request.

Working temperature

up to 260°C

Design pressure

4.0Mpa/6.3Mpa/10.0Mpa/16Mpa/25Mpa or as per any request.

Nozzle

up to 400mm or tailor design. Flange standard can be DIN, ANSI or other standard.
Performance range
Performance range at 50Hz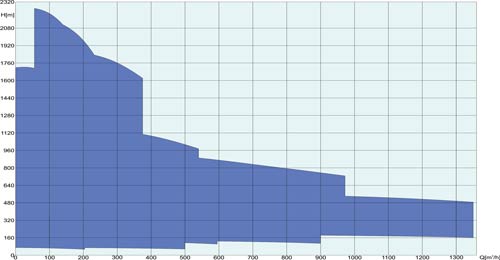 Performance range at 60Hz