Self-priming pump
Pump category
Pump selection tips
The self-priming pumps talked here belongs to the group of end suction pump. The special design of the self-priming pump casing collect a quantity of liquid to remains in the bottom of the casing. So it is not neccessary to use a vacuum pump to vent the air before starting the pump after being shut down.

According the liquid type and application fields, we have general self-priming pump mainly for clean water, it is SLF general self-priming pump. Another main type is chemical self-priming pump designed according to ISO5199 and API160 standard, it is our SP type chemical self-priming pump.

Self-priming pumps are used anywhere that a pump is running with a suction lift and not convient to have external priming device and usually the suction lift heigh is less than 6 meters (20feets).
SLF type self-priming pump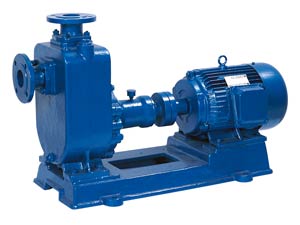 SLF type self-priming pumps adopt axial liquid-recharge structure which compose of suction chamber, turbination room, liquid charge room, liquid return room and air liquid separation chamber and so on. The SLF self-priming pumps usually don't require maintenance by dismantling the parts. Foot valves are not necessary in the pipe system and some liquid should be filled in the pump chamber before starting the pump.
Main designing features
3D design used in the whole design process and CFD analysis and being embodied with knowledge and experience of the fluid experts in Hankia Pump.
Back-pull-out construction is easy to maintenance and replacing the spare parts.
Standard elastomer bellow type mechanical seal for easy construction.
Bearings are lubricated by oil or grease.
Main benefits
Advance and modular design with fine production that is supplied by Hankia Pump.
Large scale proudction and economic cost.
Comparently high efficiency as compared with similar products in the market.
Many choices for material, cast steel, all kinds of stainless steel, duplex stainless steel and steel alloy.
Excellent pumps with fast delivery.
Long lifetime and easy mentenance.
Main application
Clean water instake or transferring.
Fire fighting.
Cooling water circulation.
Municipal projects.
Offshore projects and sea water transferring.
Power station and nuclear industry
Basic service data
Capacity

up to 167L/s (600m3h), or as per tailor-made.

Head

up to 90m(295ft), or as per tailer made.

Working temperature

up to 80°C

Design pressure

1.6Mpa

Nozzle

up to 300mm or tailor design. Flange standard can be DIN, ANSI or other standard.
Performance range
Please inquiry our offices or distributors