Split case pump
Pump category
Pump selection tips
Hankia pump have the horizontal split case pump and vertical split case pump for your options. Usually the horizontal split case pump is prior to vertical split case pump because the horizontal split case is easier to install and maintenance as compared with veritcal split case pump.

For the same project, if both the end suction pump and split case pump can meet the service, split case pump usually need more budget although it has longer life time. So you can consider the split case pump as the secondary option if it is not critical project.Because of the unique feature of split case pump, the split case pump is usually preferred to the main pumps or critical projects.
DSR type axially split case double suction pump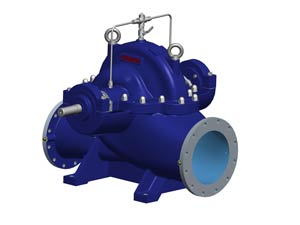 DSR type is the axially split case pump, single stage, double suction pump, designed to the countries with 50Hz electricity. DSR is Hankia Pump's first generation axially split case pump with double suction impellers which is widely chosen by users in the water station and municipal plants and industrial plants.
After several innovation according to the feedback from end users, DSR split case pump has more better features than the previous products and application fields are expanded as well. Hankia Pump are going to optimize the performance again and let it to be our another nice choice of axially split case pump to meet different prefence in the market.


Main designing features
Single volute case design for all sizes to simplify the design and easier production.
The stuffing box is embodied into the case, so reduce the part nambers of the pump and machining cost then reduce the cost the pumps.
Axially split bearing bracket to allow easier assembling and maintenance.
Optional rotation for clockwise (CW) and anti-clockwise (CCW).
Optional shaft sealing for single seal mecanical seal, double mechanical seal, cartridge mechanical seal and soft packing.
Bearing lubrication is optional for grease or oil.
Main benefits
Double suction impeller with optimum hydraulics optimized by CFD analysis and the fluid experts from Hankia Pump
Low NPSHr and wide range at high efficiency.
Many choices for material, cast iron, cast steel, all stainless steel and duplex stainless steel, bronze for your different application.
Excellent pumps with economic price and fast delivery.
Compacted design allow you save your landing space.
Long lifetime and easy mentenance.
Main application
Water lift and transporation in water plant and municipal projects.
Agricultural Irrigation.
Power station and nuclear power station
Offshore Projects and sea water.
Air-conditioning and heating.
Mining and steel plants.
Fire fighting.
Water circation.
Basic service data
Capacity

up to 3500L/s (12600m3h), if you need special performance,Hankia Pump can offer tailor made pumps for your application

Head

up to 140m, if you need special performance,we can offer tailor made pumps for your application

Working temperature

up to 80°C

Design pressure

1.0Mpat /1.6Mpa which depends on the application.

Nozzle

up to 1200mm or tailor design. Flange standard can be DIN, ANSI or other standard.
Performance range
Performance range at 50Hz